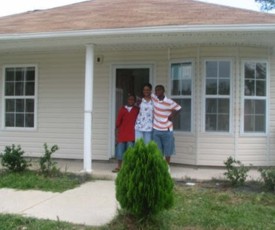 Welcome to Builders of Hope
In northern Indiana Builders of Hope is bringing help and hope to low and income homeowners by putting volunteers to work repairing homes. Builders of Hope is a faith based not for profit committed to providing the entire community the opportunity to assist homeowners in Elkhart and St. Joseph Counties who lack the means to make the needed repairs to their houses.
At Builders of Hope we work with any resident homeowner who qualifies financially, limited only by time, financial resources, and the volunteers to perform the work. In the past 13 years we have assisted more than 200 homeowners in Elkhart and St. Joseph Counties, completing more than 370 separate projects. Work has included interior repairs making homes more handicap accessible, building handicap accessible ramps, re-shingling roofs, replacing windows and entry doors, replacing or repainting siding, replacing soffit and fascia, replacing HVAC systems and water heaters, general property clean up, and a variety of small handyman projects.
In 2020 we assisted 51 homeowners in Elkhart and St. Joseph Counties. 75 different projects were completed using contractors paid by grant funds received from the Federal Home Loan bank of Indianapolis, and volunteers and contractors paid with donor funds.  Visit our Projects page to view some the work done in 2020.
In 2021 Builders of Hope has secured 20 Neighborhood Impact Program Grants and 1 Accessibility Modification Grant to assist homeowners in Elkhart and St. Joseph Counties by replacing failing roofs, windows and doors, replacing failing HVAC systems and water heaters, replacing siding, and by making homes more accessible to those with limited mobility by replacing bath tubs with walk in showers. The grant funds will enable us to pay contractors to work on the homes, thus multiplying the number of major repairs we can do.  On some of the properties we will also use donor funds and volunteers to assist in the work and to perform other work not covered by the grants. 
In addition to the grant funded work, Builders of Hope is hoping to work on another 10 properties using only donor funds to pay for the materials and, where necessary, the contractors to do the work.  The emphasis on these properties will be the use of volunteers to do the necessary work.
On some homes, the amount of work to be done will require large groups of volunteers drawn from local churches, businesses, and the community to accomplish the work.  You may also follow us on our Facebook page, Builders of Hope, to learn of needs for volunteers,
Please visit our Projects Page to see pictures and stories of some of both upcoming work and work already completed in 2021.
If you would like to financially support the work of Builders of Hope, you may contribute via PayPal by clicking on the Donate button on this page, or by sending donations to Builders of Hope, PO Box 2558, Elkhart, IN 46515-2558,