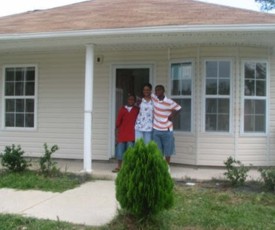 Welcome to Builders of Hope
In northern Indiana Builders of Hope is bringing help and hope to low and income homeowners by putting volunteers to work repairing homes. Builders of Hope is a faith based not for profit committed to providing the entire community the opportunity to assist homeowners in Elkhart and St. Joseph Counties who lack the means to make the needed repairs to their houses.
At Builders of Hope we work with any resident homeowner who qualifies financially, limited only by time, financial resources, and the volunteers to perform the work. In the past 6 years we have assisted more than 110 homeowners in Elkhart and St. Joseph Counties. Work has ranged from making interior repairs to building handicap accessible ramps to re-shingling roofs.
In 2015 we began working with 1st Source Bank and Lake City Bank sponsoring homeowners for Neighborhood Impact Program Grants funded by the Federal Home Loan Bank of Indianapolis. We were able to assist 15 homeowners with NIP grants in our first opportunity to work with NIP Grants.
Executive Director
In March, 2016, Jason Champaigne began serving as Executive Director for Builders of Hope. We have needed a full time director to serve the growing number of homeowners but lacked the funds to start up this position. A generous grant from the Community Foundation of Elkhart County is paying for the first year salary for this position. Jason's experience and commitment to serving the needs of low income homeowners will enable us to grow the number of homeowners we can assist.
2016 - Restoring Hope
In 2016 Builders of Hope has been using Neighborhood Impact Program Grant funds to assist homeowners in Elkhart and St. Joseph Counties by replacing failing roofs. The grant funds enable us to pay contractors to work on the homes, thus multiplying the number of major repairs we can do. On some of the properties we have also used volunteers to assist in the work and to perform other work not covered by the grants. To date we have replaced 10 roofs with 3 more planned. We have 1 window replacement project planned. We will do 2 additional grants for bathroom modification.
In addition to the grant funded work, Builders of Hope is seeking to complete work on at least 11 homes that do not qualify for grant assistance. That work will be done by use of donor funds.
Please visit our Projects Page to see pictures and stories of some of our work in 2016, including the home makeover done by volunteers from Granger Community Church Elkhart.
2017 - Growing the Base
In 2017 we intend to assist more than 40 homeowners using NIP/AMP Grants. We presently have more than 40 applications for assistance that we are processing. Jason Champaigne is visiting properties and inspecting for work to be done. He will be inviting local contractors to bid on the needed work during January, February, and March. Meanwhile, volunteers from Help With Love Ministries in South Bend and area churches in St. Joseph County are meeting with homeowner applicants to prepare the forms needed for submitting new applications to the Federal Home Loan Bank in April.
The use of volunteers to meet with the homeowners enables us to contain costs, but it also gives the volunteers time and space to deal with other needs that the homeowner(s) may have. While our ministry is one of repairing houses, we also want to provide means for homeowners to get other assistance.
The need for volunteer labor will grow in 2017. We will, as always, be assisting homeowners who do not qualify for grant assistance, meeting their needs by enlisting skilled volunteers to assist them. We will also increase the use of volunteers to augment the efforts of contractors by performing other needed work on the property that is not covered by the grant funds. Soon we will be posting the projects for 2017 with volunteer opportunities. In the meantime, if you wish to inquire about assisting you may call us at 574-596-1541.